Where to Sleep in Beijing Capital International Airport
If you need to spend time in transit at Beijing Capital International Airport then you might want to get a little sleep. You have several options available to you but be aware that the airport is very large. The airport has three terminals; is visited by 66 airlines and connects to 88 domestic and 69 international destinations. Terminal 1 covers 60,000m² and services mostly domestic flights; Terminal 2 covers 336,000m² and services both domestic and international flights and Terminal 3 is 2900 meters long from south to north and is the second largest airport terminal in the world. The Beijing airport is about 25km from the city and so if your layover is short you should look for accommodation within the airport or nearby. If you would like to use the facilities in a different terminal then you can use the passage linking T1 and T2 or the Airport Express subway which connects T3 with T2 or the free shuttle bus which connects all three terminals and departs frequently 24/7. Most of the sleeping options are located "after security" this means that you need to pass through security/immigration control and will need a Chinese visa or be on route taking a direct transit within 24 hours to an onward international airport.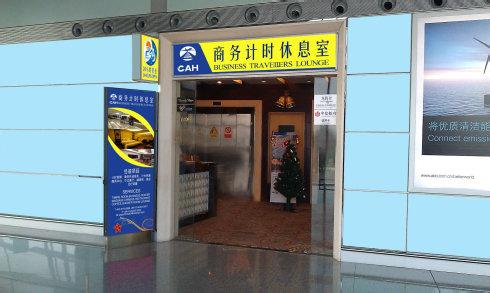 Pay Lounges (Hourly Lounges)
A Pay Lounge or Hourly Lounge is a hotel-like facility offering small rooms and limited hotel-type services within the airport. The facilities are basic but comfortable and enough to get some sleep, watch TV and relax. These small hotels charge by the hour, sometimes with a minimum number of hours required.
Terminal 1 Hourly Lounge – Located between Gate D2 and Gate D3 at B1 and between Gate D6 and Gate D7. The Hourly Lounge is located after you go through security.
Terminal 2 Hourly Lounge – Domestic Arrivals, B1 between Gate D5 and D6. Also in International Arrivals, B1, between Gates D2 and D3.
Terminal 3 Hourly Lounge – A 24/7 hotel-style accommodation with single, double and triple rooms which have TVs, a sofa, wardrobe, shower and some hotel services. Some of the rooms have bathrooms. Although these rooms are called sleeping pods they are more like a very small hotel room. The hourly lounge is located west of the public space in the Arrival Hall on the 2nd floor of T3-C. The phone number of this hourly Lounge is 010 64558577.
A second Hourly Lounge is located in Terminal 3 east of the International Departure Lounge of T3-E. It provides hotel services including a small conference room, business services, reading area, foot care, coffee bar, massages, bath, beauty treatments and a hairdressing service. The phone number of this facility is 010 64532621.
Airport Lounges
Travelers with membership cards from certain airlines or with tickets booked on certain airlines in the business or first class sections have access to these lounges. However if you are an economy class traveller you can still access these lounges by buying a lounge pass online from the relevant lounge page. There are also lounge passes which provide you access to airport lounges across the globe.
Airport Lounges in Beijing Airport include:
Air China Business Class Lounge – T2, after going through security, showers available, open 6am-10pm.
BGS Premier Lounge – T2, after going through security, near Gate 11, open 5:30am-last scheduled flights, online booking required.
Air China First and Business Class Lounge – T3C and T3D Domestic, after going through security, showers available, open 6am-10pm (8pm at T3D).
Air China Business Class Lounge – T3E International, after going through security, showers available, open 6am-10pm.
BGS Premier Lounge – T3E, after going through security, near Gate E19, showers available, open 24/7 Monday to Wednesday and Saturday and Sunday; open 5am-1am Thursdays and Fridays. Online booking required at least 24 hours in advance.
Air China First Class Lounge – T3E International, after going through security, showers available, open 6am-10pm.
Business Traveler's Lounge – T3E International, after going through security, near Gate E10, showers available, open 24/7.
Sleeping Sitting Up
If you don't want to pay for an airport lounge or hotel then you will have to catch some shut eye in the public areas. The most comfortable terminal to sleep in is T3 as there are plenty of seats, some benches and some chairs with arm rests. As there will be noise and light in these areas bring your ear plugs and eye mask. If you are on a very tight budget then you might want to head for the food court on the 2nd floor of Terminal 3 and collapse for a few hours in one of the restaurant chairs or couches. Many of the eateries are open 24/7. There are several Rest Zones specifically for travelers who are not checking in to a hotel but want to relax in comfortable chairs. The Rest Zones generally have recharge points for mobile phones; WiFi access; snack bars nearby and TVs. Find the Rest Zones at T2 between Gates 36-39; T2 at Gate 23; T2 Transfer Hall on F1; T3 at Domestic Gate C10; T3 at Domestic Gate C30.
Airport Hotels
There are about 130 hotels very close to the airport. You can find airport hotels from 5 stars to basic tourist class hotels. Some offer free shuttle bus services to and from the airport. A few of the most popular airport hotels include: Hilton Hotel 5*; Langham Place 5*; Crowne Plaza 5*; Days Hotel Beijing New Exhibition Center 4*; Huanyu Jinghang Airport Hotel 4*; Citic Hotel 4*; Jinjiang Inn Beijing Capital International Airport 3*; Eastern Air Business Hotel Beijing 3*; Fangyuansiji Hotel 3*; Fu Run Tong Hotel 3*; Hang Lu Airport Hotel 2* and Home Inn Shunyi Beijing 1*. The closest hostel to the airport is the Qing Guo International Youth Hostel. In each of the airport terminals there are desks where you can book a hotel or get more information about hotel stays near the airport.