Foreign travelers landing in Beijing Capital International Airport usually require a visa to enter China. However if you will be staying in Beijing for up to 72 hours and remaining within a specified geographical area then it is possible to arrange a visa-free stay. There is a transit without visa (TWOV) program in Beijing (and a number of other Chinese cities) with several requirements; if you meet these requirements you can enjoy a 72 hour layover in Beijing – visa free.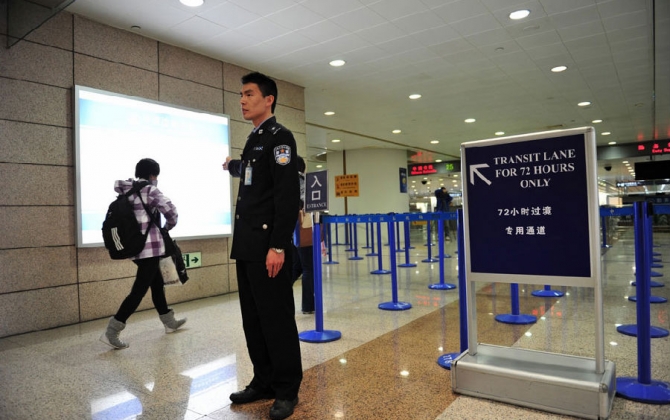 What are the Requirements for a TWOV in Beijing?
Same Entrance/Exit Point – You will need to be arriving and departing from Beijing Capital International Airport. With this program you must enter and exit the country from the same port. At present the program only applies to international airports like Beijing Capital International Airport. You cannot arrive at Beijing Airport and exit at a different airport. Similarly you cannot arrive or depart by train using a 72 hour visa free transit. The transit without visa program does not apply to rail or sea.
Remain within Beijing – You will have to remain within the municipal precincts of Beijing. Luckily for visitors to the stunning city of Beijing the main attractions are within this permitted area. For example you can visit the Great Wall and the Forbidden City on a 72 hour visa-free transit.
Proof of Booked Outbound Flight to Third Country – You will need to provide the appropriate travel documents to be eligible for the TWOV. These include a booked and confirmed air ticket and seat on a flight leaving Beijing Airport within 72 hours destined for a third country (not your country of origin). The outbound flight must be to a foreign country not to another destination within mainland China. For the purposes of this particular visa program visitors may fly to or from the regions of Hong Kong, Macau or Taiwan. For example a passenger flying USA-Beijing-Hong Kong would be eligible for the TWOV program but someone flying USA-Xian-Beijing-Japan would not be granted the 72 hour visa-free transit in Beijing and someone flying USA-Beijing-USA would not be eligible.
Relevant Travel Documents – You will also need a valid passport and any visa required for entry to your final destination country. Applicants for the special transit visa program will have to fill in an application form and Arrival/Departure Card at Beijing Airport. Your passport must be from one of the participating countries.
Only for Citizens of Listed Countries – The TWOV is only available to foreign travelers from countries participating in the special program: Austria, Belgium, Czech Republic, Estonia, Denmark, Finland, France, Greece, Germany, Hungary, Italy, Iceland, Latvia, Luxembourg, Lithuania, Malta, The Netherlands, Portugal, Poland, Slovakia, Spain, Sweden, Switzerland, Slovenia, Albania, Bosnia and Herzegovina, Bulgaria, Croatia, Cyprus, Estonia, Great Britain, Ireland, Macedonia, Montenegro, Romania, Russia, Serbia, Ukraine, Argentina, Brazil, Canada, Chile, Mexico, USA, New Zealand, Australia, South Korea, UAE, Singapore, Japan, Brunei and Qatar.
How long do you have in Beijing?
When flying into Beijing and being approved for a 72 hour TWOV your time in the capital will be calculated according to the time of arrival and the time of departure. For example if arriving at 8am on the 1st December you must depart by 8am on the 4th December. In other participating Chinese ports of entry the 72 hours is calculated differently (from 0:01 on the day following entry into the country).
How to get a 72 hour TWOV in Beijing?
When you land in Beijing Capital International Airport you will approach immigration passport control with the other passengers on your flight. Follow the signs to special immigration inspection lane for applicants for the 72 hour visa-free transit. At the desk you will need to fill in an application form; present your passport and your outbound air ticket. Your temporary entry permit will be stamped into your passport.
Tips for getting a Beijing Visa Transit
If you will be in Beijing for 24 hours or less and will not be leaving the airport then you can get a "direct Transit" and you do not need to apply for a 72 hour visa-free transit. But remember you cannot leave the airport on a direct transit.
If for any reason you need to extend your stay in Beijing or if you want to leave the designated geographic area of Beijing then you must apply to the Beijing public security bureau exit-entry administration department.
When checking in to your flight from your country of origin you can inform the airline that you will be applying for a TWOV once you arrive in Beijing. Have a copy of your itinerary available to show the authorities.
Transit Visas in other Chinese Cities
China has specified 18 ports of entry across the country where foreign visitors can apply for a 72 hour visa free transit. In Shanghai, Jiangsu and Zhejiang the policy is slightly different and allows you 144 hours plus entry and exit from the cruise port as well as the airport.